Antalya is the 5th most populous city of Turkey. The city is in the Mediterranean region and established between the Gulf of Antalya and Western Taurus Mountains. It is the 6th largest city of Turkey. The Mediterranean Sea takes place in the south of the city while its neighbors are Muğla in the west, Burdur and Isparta in the north, Konya in the north east, Karaman and Mersin in the east.
Antalya pullulates with ancient cities. Trebenna, in the western region of the city, was established on a hill at 700 m altitude and surrounded with accumulated rocks at Beydağları. The historical ruins in Antalya are integrated admirably with the natural beauties. You can go to Düden-I waterfall, which is at 14.km north east of Antalya, to see its amazing beauty and walk through the cave just behind the waterfall. Düden-II waterfall is on the way to the Lara Beach with its drop of 40 m to the sea. The view of the waterfall is much more beautiful from the sea. Kurşunlu Waterfall stands 21km away from with its outstanding beauty. On the other hand, Manavgat Waterfall is a great place to have a rest. It is also possible to have a boat trip on the Manavgat Brook. Lara Beach is at 12 km east of the city while Konyaaltı Beach in the west is closer to the city center. On the west of the Gulf of Antalya, we have Olympus-Beydağları Beach National Park and Topçam Beach. There are camping sites on the north end of the park if you would like to stroll among the natural beauties. Tünek Hill is one of the most important observation terraces with its 650 m altitudes. Saklıkent which is 50 km. away from Antalya and at the Bakırlı Mountain's foot is a great place for winter sports with its 1800-2000 m altitudes.
Antalya is one of the luckiest cities around the world. Antalya is such a city that it is home to many historical artifacts and cultural heritage which shed light from the past to present. It has always been kept fresh and aged gracefully.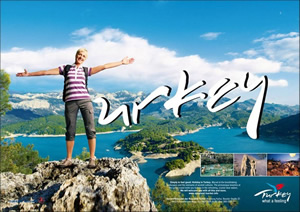 Introductory Film of Turkey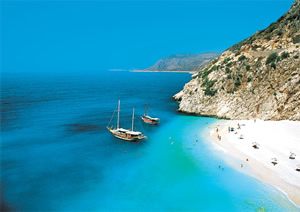 Introductory Film of Antalya